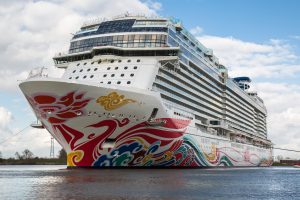 Pre cruise:  This month my work "mates" and I will sail off on the Norwegian Cruise Lines new ship JOY.  it has been many years since I have traveled for work and I am excited to get to know this ship and my co-workers up close and personal.  Our journey will begin in Vancouver, a city the four of us are looking forward to exploring!  I cannot wait to share with you all this ship has to offer as we cruise down the Pacific coast.
Day 1: We have landed! Vancouver greets us with sunny skies and friendly smiles. We have much to accomplish in this short day and a 1/2 that we are here. This city is vibrant, full of fresh sea air!   We check into the hotel and off to Granville Market for some eats……..omg an amazing clam chowder in a crock on the docks is just what I needed. We end the evening with a Forbidden Vancouver Tour, our docent is awesome!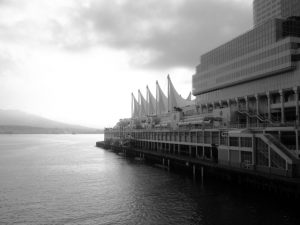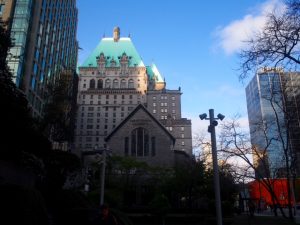 Day 2: As always, I am the first one up – Good for  me because I found a wonderful coffee spot in a garden of tulips! Somewhere in the middle of downtown Vancouver sits a sunken church courtyard with waterfalls and tulip gardens, what a wonderful way to start the day. We will venture up to Capilano Suspension Bridge as soon as the girls are ready. The city offers free bus ride to the Capilano Suspension Bridge Park and again we are amazed,  we could play all day here!
Day 3/4:  Having left port yesterday, we woke to bright blue skies and ocean views.  The water and sky are our view until we pull into port in Los Angeles Monday morning.  Today we got the "Joy" experiencing this wonderful ship.  The entertainment has been over the top and I wish one day to actually stay in The Haven, not just walk through!  The observation room is my favorite,  I could relax here all day!  Perfect music, perfect sights, perfect furniture and bar service!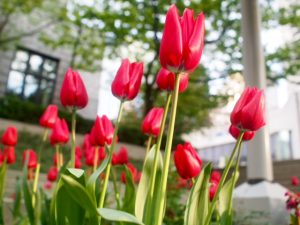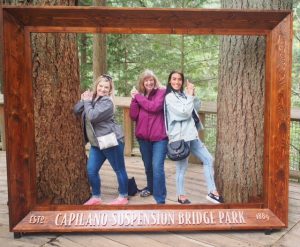 Day 5:  Arrived in Los Angeles, the seals are greeting us as we pull into port.  Cloudy and raining, that's ok – I still love Los Angeles!  It feels good to be back on land.  We catch an Uber to the airport and fly home.   First work trip has been fun and a success. As I was reminded on the cruise, we have the best job in the world.  We really do!