Here we go again.  Holly and I are off sailing Majesty of the Seas, on Royal Caribbean Cruise lines.   Our ports will be Key West and Cuba, Holly's daughter Sissy will be joining us.
Day 1:  Thank goodness for Priority Club and Sky Club memberships!   This is the best way to waste time in airports and we take full advantage 😊.   We arrive one day early to relax and catch up on our lives before we start a full itinerary of pre-booked activities on the ship and in our ports.
What is the chance that the young man checking us into our hotel room for the night has parents who live in Havana?  He was so eager to share his country with us and give us all kinds of suggestions of things to do while in Havana.   He also recommended a wonderful Argentinian restaurant for us that evening – outside café with wine and great food – it felt so good to sit outside and dine – something we have not yet been able to do in Minnesota as spring has not quite sprung! ☹
Day 2: Boarding the Majesty of the Seas takes one back in time.  Yes, this ship is authentic and truly perfect for Cuba, her charm won us over!   I start the morning with a 4hour bike tour of Key West, Holly and Sissy chose to ease into their day.   No worries, I will catch up with them later –the bike tour consists of a group of 15 and we take to the streets to see the sights and learn the history of Key West.
Meeting up with Holly and Sissy for lunch we find a quiet place (found on the bike tour) that we loved!   Garbo's provided an oasis for us to talk about our morning in Key West and what adventure was next.  Turns out we want to visit cats – Hemingway House here we come! We love cats and the 6 toed felines have a gorgeous property to roam – needless to say, Hemingway lived in style.
Must we leave so soon? We board the ship to continue onto Havana.   Cuba here we come!
O.K.lets face it – they say it's about the ship not the destination.  Not so, this trip was simply about Cuba and spending time together as friends and daughters!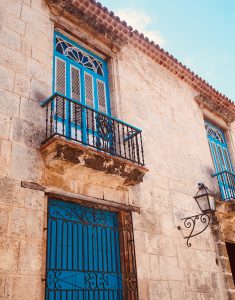 Cuba – A lovely country harboring the warmest people make this destination one of my favorites! A big shout out to our guides Carlos and Radeal for making our day on the island a day to always remember and showing us the unexpected treasures and hiding spots of your Havana. The school children playing in the town square make this city alive with laughter, a drive through old town you will see the despair of buildings left unattended, a drive further north to the beach will again show the beauty of the island.  From rum and cigars, mojitos and classic cars, Cuba is a country I am lucky to have seen!
Post: One week after our Cruise to Cuba, the United States banned cruise ships from this port. I hope people know they can still visit this wonderful country by booking air and land tours. I feel blessed to be one of the lucky ones to arrive by ship.