A beach getaway for Minnesotans 90% of the time is in Florida.  For me, I head to Southern California, A quick 3 hour flight and I am transformed into the warmth of sunshine and energy of the SoCal beach community.
My most recent beach escape took me to Venice Beach for the most fun 3 days I had in a cold Minnesota long winter.  My husband and I flew into LAX, hailed a taxi to our Venice Beach Cottage that I reserved on VRBO.  Our cottage was everything the homeowner had said in the description it would be.  We had a fantastic location on the Venice Beach Canals equipped with bicycles, a kayak and a canoe.  The proximity to the beach was just a short path away, not to mention a walk scale of 10 to restaurants and shops.  The Terrace Cafe at the fishing pier is my choice for Sunday Brunch and a Bloody Mary.   Next door you will find the Ocean Echo – I can never pass on the so, so cute swim suits and a new pair of sunglasses.
California has been catering to the biking community  and the paths went for miles.  We started in Venice and headed towards Marina Del Rey.  The harbor boast shops and provides a perfect break for an ice cream cone while watching the seals put on a show. As always, the flavor of Venice Beach never disappoints.  The locals and guests of the town are as delightful as the sunsets and sand.  Next time when looking for that beach getaway, I say think outside the box and head to Venice Beach, it will leave you wanting more.
Note:  I wrote this article for a travel writing class after a return from Venice Beach.  The Ocean Echo is no longer but after a recent visit and a family style dinner at C&O Trattoria  I put this on a must do list when visiting Venice Beach.  You will enjoy the sing-a- long to Thats Amore!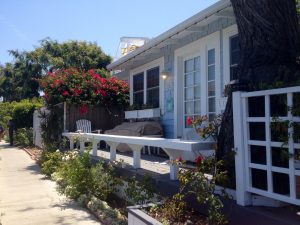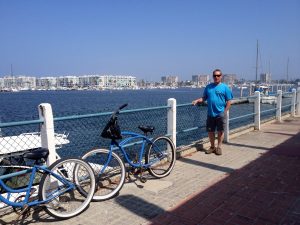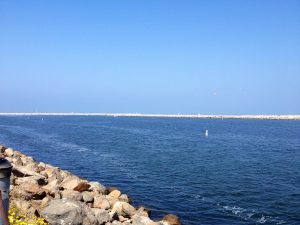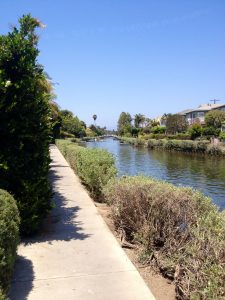 c